Covert Award Winner; Gift Giving Tips; Accelerated Intelligence; 2018 Investing
December 14, 2017
8 Must-Read Books To Start 2018
January 2, 2018
Not many firms can say they employ hundreds of team members who are doing incredible things. Fast-growing Bradford Airport Logistics, a firm critical to keeping airports safe from terrorism, collects 300 success stories each year through an innovative system for recognizing employees who delight its customers.
When Mark Phillips, an employee of Bradford Airport Logistics, made an emergency delivery to a restaurant in Heathrow Airport for the venue's launch the following morning, he received an unusual form of recognition. The restaurant, Caviar House, gave him an "Employee Recognition Coin" for making the off-schedule delivery and for keeping other nearby merchants informed.
"Without the delivery arriving when it did, Caviar House may have been late in opening their new restaurant," wrote Julia Smith, customer terminal integration manager at Heathrow Airport.
As a result of receiving the coin, Phillips will be celebrated in Bradford's global newsletter and mentioned in a variety of other ways by the company.
These specially minted and numbered coins are part of a unique system Bradford, based in Houston, has created to make its team feel appreciated. Each year, members of the company's executive team, managers of its business units and members of each airport's own leadership team (and even businesses in the airports) get to give out one of the recognition coins when they catch someone at Bradford doing something "incredibly right."
Bradford lets managers and stakeholders know how important their recognition is to its front-line employees, says its CEO and founder Ben Richter. "You get to give only one coin each year to the right deserving employee."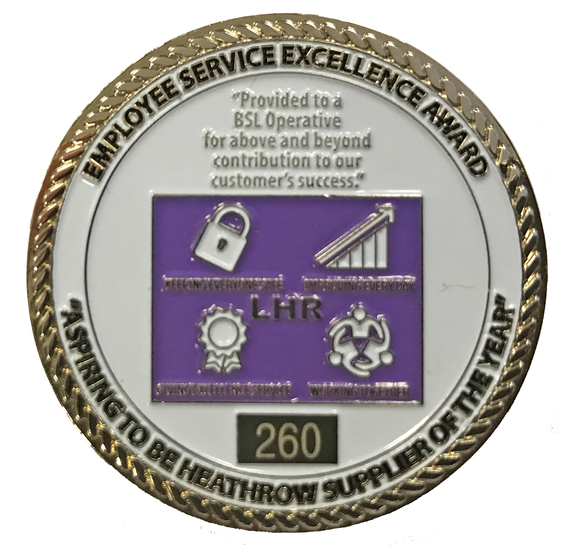 The Employee Service Excellence Award for Heathrow Airport
Once the coins are distributed, the company writes up the stories of the 300 team members who received them in its global newsletter, shares them in town hall meetings and considers the winners for annual awards it gives out—greatly contributing to morale. "It's the way you make people feel that matters," Richter says.
Preventing terrorism
How employees at Bradford feel about their jobs is critically important. The firm runs centralized receiving and distribution centers that are very important to the efficient operation and security of airports such as London's Heathrow Airport. The firm's London Heathrow operation is run under a joint venture between Bradford Airport Logistics and Swissport, a large provider of ground and cargo handling services.
Airports function like mini cities these days, and Bradford helps prevent scenarios that can seriously disrupt them. Tight controls of material goods entering the airport reduce the risk of terror attacks such as truck bombings and the smuggling of prohibited items into airports. Bradford re-routes delivery trucks and parcel carriers away from the terminals to its centers, where they go through a multi-layered security and inspection process. Bradford then brings the material to the terminal through its "Virtual Secure Material Delivery Tunnel," greatly reducing the number of delivery people who enter the airport on any given day.
"We're delivering all of the goods consumed by the mini cities in an ultra-efficient and highly-secure manner," explains Richter.
Coin of the realm
As one might imagine, the employees who work in the receiving and distribution centers are critically important to Bradford's success. The recognition that comes with the coins has had a powerful underlying effect on Bradford's team, which includes more than 400 employees. "We're not just doing a job," says Richter. "We have a much greater mission." That mission, he notes, is to "help airports run great."
The coin system has also made it easier for company leaders to stay clear on what matters at Bradford. "Everyone is looking for employees to do great things," says Richter.
Moved to tears
In addition the coins, the company also offers the Shepard Award, for "creating fanatic fans of our customers." Employees who are nominated by customers and facility managers are eligible. Vinny Carty, a team member at Heathrow Airport who won it recently, was sent on an exchange program with the facility that Bradford manages at San Diego International Airport. After he discussed the trip with colleagues at a meeting, Carty excused himself and left the room, recalls Richter.
"I got to the hallway and he was in tears, literally, just recalling how much his whole journey has meant to him as a person," says Richter, who felt choked up, too. "He got to see these programs linked together."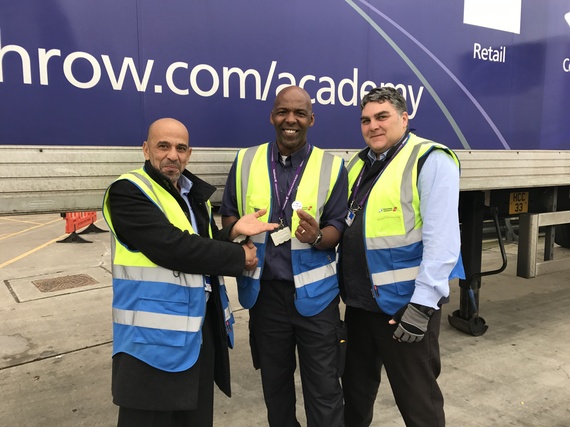 The coin delivery to Vinny Carty (center)
Rapid growth
Beyond making a difference in the lives of employees and customers, this approach has helped the company scale. Bradford has come a long way since Richter, a consultant for enterprise resource planning (ERP) systems, launched it in 2001, upon winning a contract to manage and operate the Centralized Receiving and Distribution Center at the then-newly constructed Edward H. McNamara Terminal in Detroit, MI. When Bradford's work in Detroit proved successful, the company began winning other contracts. The company, which has annual revenue in the $30 million range, has been profitable since inception.
Bradford Airport Logistics was recently named as a 2016 Supplier of the Year for Heathrow International Airport in the category of Treating Everyone with Respect. Heathrow employs more than 76,000 people.
In Bradford's first one-page strategic plan, Richter set a 20-year mission to be a global leader in aviation. "When we wrote that on a white board, I don't think anyone believed it other than me," says Richter. Now he's preaching to the converted. "In 2012 with the award of London Heathrow, we had achieved that mission," says Richter. Given how excited he has gotten his team about helping the company grow, I won't be surprised if Bradford achieves his next big goal of running hundreds of airport in the next decade, as well.