Richest Ever?; Rethinking HR; 2018 Year of…; Rich Moran
January 11, 2018
Most Complained About Company; Theme for 2018; 3 Question Sequence; Place to Visit This Summer
January 18, 2018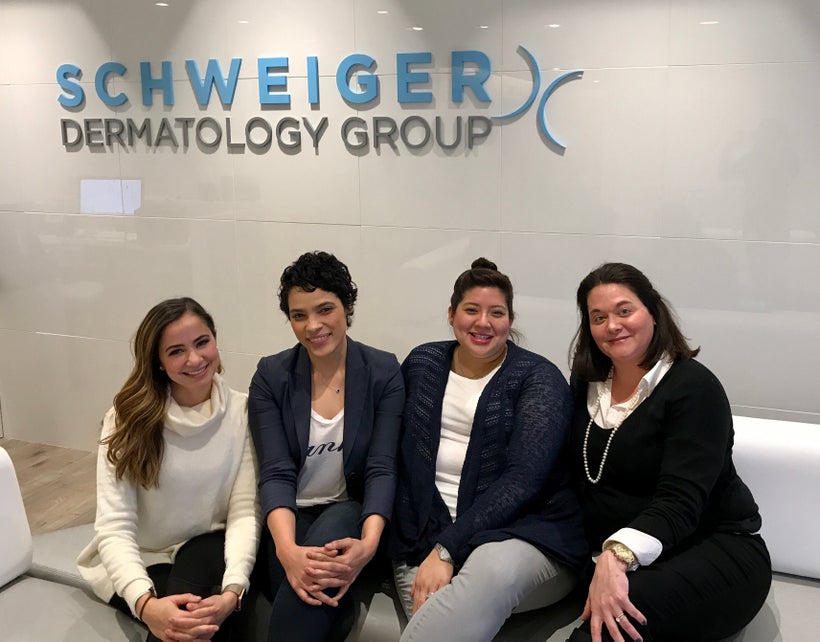 As Schweiger Dermatology Group expanded to 502 employees, CEO Eric Schweiger, MD, realized he needed to rethink his hiring processes to build the right team to scale the business. Here is how he pulled it off.
Schweiger Dermatology Group in New York City has achieved rapid-fire growth in the seven years since it opened, expanding to 31 locations and 502 employees. But with fast growth came turnover that hit 60% last year.
Remarkably, founding dermatologist and CEO Eric Schweiger, MD, and his leadership team have turned the situation around and reduced turnover at the cosmetic and medical dermatology group to 26% in a year, thanks to a three-pronged approach. To get the right people on the bus and keep them there, they created a VP of employee experience, emphasizing this title in place of HR; deployed Topgrading and employee testing; and introduced an in-depth onboarding and boot-camp process.
A New Take on HR
The first part of Schweiger's strategy was rethinking the HR function. Although the dermatology group has a traditional HR director who handles functions such as benefits and compliance, Schweiger created a new position for Ana Welsh, the company's eleventh hire, who was vice president of operations for four years. She took on the role of VP of employee experience.
"We grew at such a fast pace we ended up four years down the road in our growth having very high turnover," says Welsh. "We'd hire employees and throw them to the wolves, having them learn on the job. We lost sight a little bit about what makes our company unique, which is our employees."
Welsh's mandate was to change that. "We wanted someone to really focus on our employees and make them raving fans of working at Schweiger Dermatology Group," she says. To do that, Welsh set out to revamp employees' journeys, from their first interview to the training process and day-to-day environment.
Systematic hiring
The first step was getting the right people on the bus in the first place so there would not be so much turnover. "We weren't hiring the right people," recalls Welsh. "We were just hiring to fill a position."
To turn the situation around, Schweiger Dermatology began using Topgrading, a system for attracting and retaining "A" players, making adjustments to tailor it to a medical environment. "We want to wow all of our patients," says Welsh.
In keeping with Topgrading, the dermatology group began conducting a detailed phone screening that drills down into a candidate's professional background, followed by an in-person interview and, to bring additional objectivity to the process, a final screening by an internal talent committee.
By involving call center managers and office managers in the interview process, Schweiger Dermatology Group sped up the hiring process. "They can handpick the right candidates, based on the experience the candidate needs, the culture fit and how they fit into the team," she says. A key part of the screening is looking for people with the right soft skills.
Putting talent to the test
Testing is a key part of the screening. Candidates must complete an aptitude test, a personality test, and a simple test in typing, Excel and computer skills. As the company discovered, many people who think they are proficient in these areas are not. By finding a way to weed them out early, the dermatology group—where one of the core values is "urgency"—is able to find people who can work at the pace of the rest of the team.
Of course, it is hard to measure a human being with a test. To make sure the tests were accurately looking at the skills needed to thrive, Welsh asked some of the "rock stars" on the team to take the exams and used their scores as a benchmark.
In-depth onboarding
Once Schweiger's team finds great candidates, it relies on a detailed onboarding process to make sure they understand their roles and can excel. Schweiger will be expanding its current, already successful five-day role-based training to 10 days in 2018. There are specific training programs for team members in particular roles. For instance, doctors participate in a different program from call center workers. The company has also launched a learning management system to provide online, self-paced training courses to employees and make job-related information easily accessible.
The onboarding program was designed by an operations manager who has played many roles in the dermatology group and knows their requirements. Candidates who have taken it have given the company very high Net Promoter scores, says Welsh.
Embracing employees' dreams
Schweiger Dermatology Group has also introduced the Scaling Up system, implementing daily huddles to bring the team together in one efficient, brief daily meeting; hosting weekly upper management meetings and setting quarterly themes. The current quarterly theme is Dream On.
Entrepreneur John Ratliff introduced the prototype for the Dream On program when he was founder and CEO of the call center company Appletree Answers. It allows employees to submit their dreams to the company, in the spirit of the Make-A-Wish foundation.
Schweiger Dermatology group has received 120 dreams to date. The company has helped one employee pay for a $200 physical exam for her daughter so she could go to daycare. The program helped another team member who lost her apartment when her landlord stopped paying the mortgage to come up with a deposit on a new one and the first month's rent. Another employee, whose husband has a disability, received tickets to a Broadway show and a dinner out, along with a car service there so they did not have to struggle with transportation.
"It's my favorite part of the job," says Welsh.
Although it has taken considerable effort for Schweiger to make all of these changes at once, its persistence is paying off. Since 2016, turnover has dropped from 60% to 26%—a figure that includes call center employees, a traditionally high-turnover position across industries. The dermatology group's turnover rate is still above the industry average, notes Welsh, but it represents substantial progress.
"We're getting there," says Welsh, who is working to reduce that number further. If it continues in the direction it is heading, I believe Schweiger Dermatology Group has an excellent chance of beating the industry average.