Writing without BS; Future is Emotional; 4 Fave Rules; Congrats to Winners
August 24, 2017
Tattoos on the Heart; Tattoos on the Wrist; THE TEN SPOT; Culture Power
August 31, 2017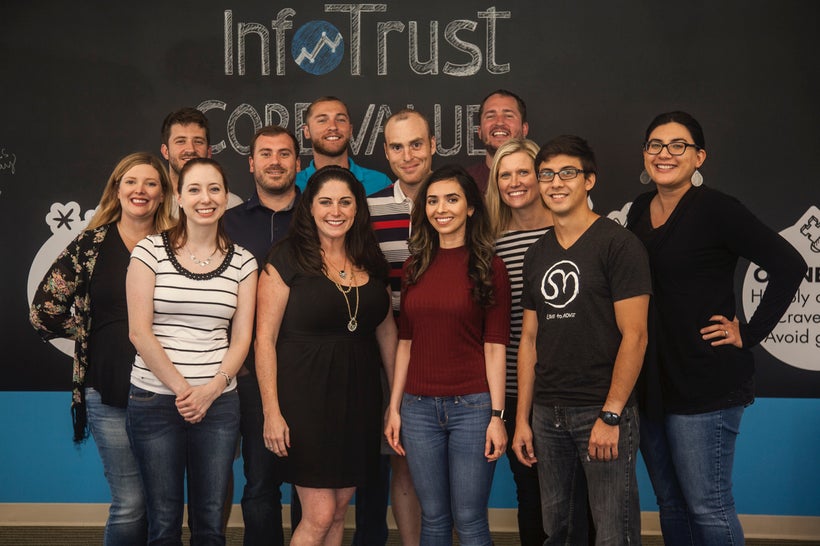 As the CEO of InfoTrust discovered, working to make more money doesn't fulfill our higher purpose in life—but giving beyond ourselves can be an exciting opportunity for growth—and to create a great place to work.
As founder and CEO of the fast growing digital analytics consulting and technology company InfoTrust, Alex Yastrebenetsky is beyond busy. His firm, based in the Greater Cincinnati area, serves some of the largest internet retailers, consumer packaged goods firms and media companies in the world. Since he founded InfoTrust in 2010, it has grown to 35 people.
Yastrebenetsky could easily devote all of his energy to his scaleup. Like many leaders, however, he has a strong desire to make an impact beyond his firm. The company has adopted the motto Give to Grow. He and his team believe it is the responsibility of a business to leverage growth as an opportunity to give back to the communities where they can make a positive impact.
Thanksgiving Basket Brigade
Each year, InfoTrust leads a campaign called the Thanksgiving Basket Brigade. Launched in 2013 with deliveries to 33 local families in need, the initiative expanded to 140 basket deliveries in Cincinnati and 20 deliveries in the communities near their remote employees on the West Coast. In 2018, InfoTrust plans to make the Thanksgiving Basket Brigade an international initiative.
The letters Yastrebenetsky receives from families who have received InfoTrust's deliveries hang on a "giving tree" at his office. As you might imagine, they often bring tears to his eyes and those of the team.
A typical letter might say, "Our daughter is on a four-hour leave from the hospital next week. She'll be able to enjoy this meal," he says.
InfoTrust has also donated $15,000 to Paige's Princess Foundation. This nonprofit organization makes grants to pediatric patients with lifelong disabilities and works closely with Cincinnati Children's Hospital.
The real beneficiaries of charitable efforts
Although the families greatly appreciate the support InfoTrust gives them, Yastrebenetsky realizes that he and his employees are the true beneficiaries of the company's charitable campaigns.
His employees, too, appreciate the opportunities to give. "It's incredibly positive and motivating," says Kaylee Kipe, marketing manager.
The Basket Brigade has become a much-awaited annual tradition. "It's one of the things people really look forward to around here, and it's a great team-building exercise," she says. "People consider these events to be core not just to the company but to who they are."
Getting inspired
Yastrebenetsky's inspiration for giving back came, in part, from being a long-time student of Tony Robbins. "He has always taught the importance of giving," says Yastrebenetsky. One lesson that stayed with him: "If you won't give a dime out of a dollar, there's no way you're going to give $100 million out of a billion."
I met Yastrebenetsky in 2015 when he brought his leadership team to an in-person Scaling Up training in Raleigh. In these training sessions, leaders learn how to apply the principles for growing a company that I discuss in my book Scaling Up.
One topic of our discussion was personal growth. As I mentioned, if you really want to grow, you have to find ways to motivate yourself to grow beyond yourself.
Scaling a giving program
It was an idea I later learned had resonated with Yastrebenetsky, who kept in touch.
Aiming to give even more to the community, the InfoTrust team reached out to the hematology department at Cincinnati Children's Hospital in 2016 and asked how many families the hospital team would like them to support that year.
"How many can you do?" the hospital asked. There were 121 families at the time, plus an additional group of households in need in the community that brought the total to 140.
"We'll take care of all of them," Yastrebenetsky said. The company also planned to deliver another 20 baskets to families who lived near its West Coast employees. To stretch available funds, Yastrebenetsky and his team shopped at Costco. The shopping trip became an opportunity for Yastrebenetsky to explain to his four-year-old son the importance of helping those in need.
The experience was so meaningful to Yastrebenetsky that during the holidays, he wrote a letter to his customers. "I explained how much we appreciate their giving us an opportunity to contribute," he says.
Building a great culture
InfoTrust's focus on giving has contributed to an outstanding culture that is winning considerable third-party recognition. The company made it onto Inc.'s Best Places to Work for 2017 and made the Best Employers in Ohio list issued by Best Employers in Ohio. InfoTrust is one of only a handful of companies in its state certified as a Great Place to Work by the Great Place to Work Institute.
Giving back has become so important to InfoTrust that Yastrebenetsky recently rewrote a one-page document on the company's purpose.
"Our purpose is not to help the enterprise sell more stuff," says Yastrebenetsky. "This is what we do. We're really, really good at what we do. Our purpose is to become better people in pursuit of what we do."
Becoming better people as we do our work can be challenging for all of us mere mortals, but it is well worth trying to achieve.