Sam Hyder revived the nearly 50-year-old company his grandfather started by making some painful decisions and learning how to keep it profitable on a daily basis.
When Sam Hyder took the helm of Geographe Enterprises, he faced a trial by fire. His 48-year-old firm designs and manufactures aftermarket parts for mining equipment, distributing it throughout Australia, Indonesia and South Africa. With the mining industry in a slump as Hyder began leading Geographe in 2012, demand for its products had dropped sharply. By 2013, revenue had plummeted from USD $20.5 million to $16.7 million.
But Hyder and his team quickly managed to turn around the company his grandfather Neville Hyder had started. Today, Geographe is on track for revenue of $30 million in 2016 and record profits.
Two critical numbers
Hyder and his team orchestrated the turnaround by focusing on two key numbers. Starting in 2013, they began working with a coach who advised them to turn their attention to both daily sales and daily operating expenses-every day and sometimes every hour. Their goal was to make the company profitable on a daily basis and, once the company achieved that goal, to keep it that way every day.
"While we waited for our new strategies to become effective and grow the revenues, we were stabilizing the business," says Hyder.
To keep team members focused on the benchmarks that would support its profitability, Hyder began holding daily and weekly huddles, where everyone got clear on what they needed to do. The meetings reduced wasted time.
"I can't remember when we last had an emergency meeting or unscheduled session to sort out a problem," says Hyder. "Everyone can now simply get on and do their job."
The power of key performance indicators
Working with Brad Giles, their Gazelles International Certified Coach, Hyder and his leadership team also put in place key performance indicators (KPIs) for every employee. These fed into the company's goals.
Employees began reporting daily or weekly on their leading and lagging KPIs in the daily and weekly huddles. To keep everyone's progress visible, the company recorded it on a dashboard they could view on Trello boards—which were far more efficient than the company's enterprise resource planning (ERP) system. Trello is a mobile project management software.
Because Geographe had not been able to offer pay increases for a while—"Our crew and the staff were getting a bit unhappy," says Hyder—the company introduced a performance bonus to motivate employees to meet their KPIs. Coming up with the money was not easy when the company was in crisis, but Hyder persisted in paying it.
"We did have one quarter where we didn't pay the full amount," he acknowledges. "I agreed to back pay everyone. I have also increased their pay permanently."
Painful choices

Once Geographe was tracking employees' progress in meeting their KPIs, the company was able to use the labor efficiency ratio (LER) to determine how productive they were. The LER looks at the productivity of each dollar invested in labor.
This analysis led to some painful decisions. Hyder laid off about 30% of his staff, shrinking the company from 156 people to 97. "I was letting go of my mentors and people who had been here 25 years or more," he says.
But Hyder knew he needed to stay focused on turning the company around. The lean team that remained at Geographe began focusing on a single overarching metric to drive the new strategy, the "Profit per Contract."
To support that effort, the company has focused on metrics, such as on-time delivery, that keep customers happy. "Our on-time delivery is very, very high," says Hyder. "The industry average for manufacturing and mining supplies is around 9%. Ours is around 90%. We punch way above our weight."
Geographe has also set what Jim Collins calls a Big Hairy Audacious Goal (BHAG). That goal is to have $76 million in business under contract by 2025, up from the current $19 million.
To meet Geographe's BHAG, sales people now call almost every client just before the close of business on June 30, the last day of the financial year, to seal deals, so they can meet an annual stretch goal. For the 2016 fiscal year, they met the target.
Expansion mode
By 2015, when Hyder formally accepted the CEO's mantle from his father, Clayton Hyder, now chairman, the business had done a complete turnaround. It now employs 115 people and is expanding into local manufacturing in Africa and Indonesia. With revenue and profits climbing and on-time delivery making the company stand out, Hyder and his team are focused on deepening relationships with their customers.
"The systems we've put in have built on and rejuvenated a great underlying family culture," says Hyder. "Most of my work and efforts have been updating and refining rather than throwing out the old to make way for the new." That approach has proved to be a winning formula for the company.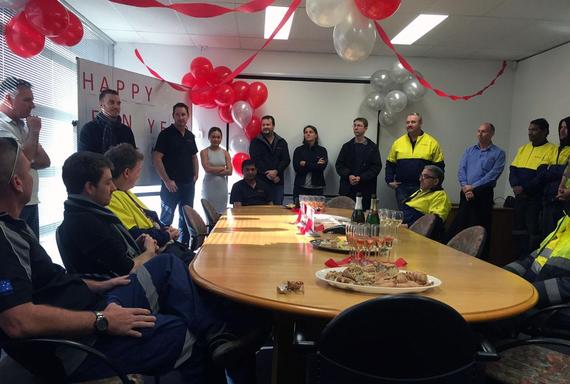 A team celebration at Geographe Enterprises