Atlassian Doubles; Leprino Dominates; Wal-Mart Leads; Elite SEM on Today Show
June 8, 2017
Crazy Backstory; No Try, Only Do; Brand/Culture Assessment; Be Incredible!
June 22, 2017
When two childhood friends started a business together, its growth took off faster than they anticipated. That created some unexpected hazards until they got their hiring process right using Topgrading.
When ace salesmen Santiago Manzur and Ivan Orrego decided to start their own meat trading business, Andes Global Trading LLC, they succeeded almost too fast. After landing their first sale in 2011, the co-founders of the Miami-based company, which sells meat in Mexico and other parts of Latin America, had to come up with $50,000 within four days to pay Tyson, their supplier.
"It was Thursday afternoon," recalls Manzur. "I had to get the money by Monday." With banks unwilling to make a loan to their startup, they created a "family and friends" fund, for which they paid these lenders 10% interest per year.
Rapid-fire growth
Fortunately, the duo had the sales skills to keep the business growing. Childhood friends who had met in their hometown of Manizales, Colombia, they each were working in sales—Manzur at meat trading company and Orrego at power tools purveyor Black & Decker—when they began talking about starting a company together. Manzur quit his meat trading job and moved to Miami, where Orrego had been working for Black & Decker, and they soon started Andes Global Trading in 2011. By the end of their first year, the company had sold more than $2 million worth of meat.
Manzur and Orrego picked up the pace with each passing year. Sales climbed to $12 million in 2013, $30 million in 2013, $60 million in 2014 and $72 million last year. Meanwhile the company grew from a startup run from Manzur's apartment to a 19-employee firm well-established enough to get support from banks.
But there was too much drama in the business as it scaled. Though both founders had management experience in corporate America, "we never really had to be responsible for a P&L, a balance sheet, or for money we borrowed from lenders," says Manzur. They often found themselves talking about how it would be great to have a mentor in the meat industry.
Putting the right systems in place
The meat-industry mentor never materialized but it turned out they didn't need one. After reading Scaling Up, my book on how to grow a business, they got in touch with Gazelles Certified International Coach Aquiles Nunez, who knows the system and is based in their area. "We found a 1-800 number," recalls Manzur. "It was like 911 for us."
When the coach came to visit them, it soon became clear what was going wrong at Andes Global Trading. As the coach began asking about the basic pillars of the business—People, Strategy, Execution and Cash—the owners quickly saw that they didn't have the systems in place to scale in an organized way.
"We didn't have any solid answers," says Orrego. "We didn't really have a solid structure for the company or the company processes, the jobs—who reports to whom. Our financials were behind by seven months. Every month we grew so much that even though we hired people for accounting, they could never catch up with sales."
As they spoke with Nunez, they realized that perhaps the advisor who could help them did not need a meat-industry background. "Maybe the mentor we needed was someone who can coach us in the process in structuring the company in the right way to be more successful," Orrego concluded.

Nunez helped the partners set goal and priorities for the business, get aligned on their core values and assign accountabilities for them. One the most important steps he took was teaching them Topgrading, a system for recruiting talent. They needed to hire people in three key areas of the business: trading, finance and logistics. The system was geared toward finding people with the right experience to move the company forward on all of these fronts—and avoid costly snafus with their highly perishable product. "We are using the methodology to hire people who are very, very focused on exactly what we need," says Manzur.
Talent that pays for itself
Once they began using Topgrading, it was easier to find people whose contributions more than covered the cost of paying their salary and benefits. "We hired one trader who is on track to sell $36 million on his own," says Manzur. "That will represent $1 million in profit." That is just for the first year, he adds. Another trader who is on track for $20 million in sales will generate about $400,000 in profit.
Recently, they hired a head of logistics who in her first three months renegotiated several major contracts with transport companies and achieved savings that will hit more than $250,000 in a year by their estimates—about three times her salary. "If you don't hire someone who knows logistics, you are making mistakes every day," says Manzur.
Manzur and Orrego also improved their knowledge of how to run the business along the way. "The program helped us to understand our financials better," says Manzur. "Now we understand how much money we need to move to new markets." Nunez also advised them to upgrade their accounting software, benefits and insurance, given the growing size of the company, and to hire the right IT and benefits company so they could focus on offering the best meat at the best possible price with the best service in the industry.
Andes Global Trading has already gotten external validation that its new approach is bearing fruit. It has won awards from the Greater Miami Chamber of Commerce for excellence in entrepreneurship and South Florida Business Journal as the eighth fastest growing private company in South Florida, based on two-year revenue growth from 2013-15. "Growing so fast, for a couple of sales people, isn't easy," says Manzur. But now that he and Orrego have the right systems in place to focus their growth, they're poised for even greater success.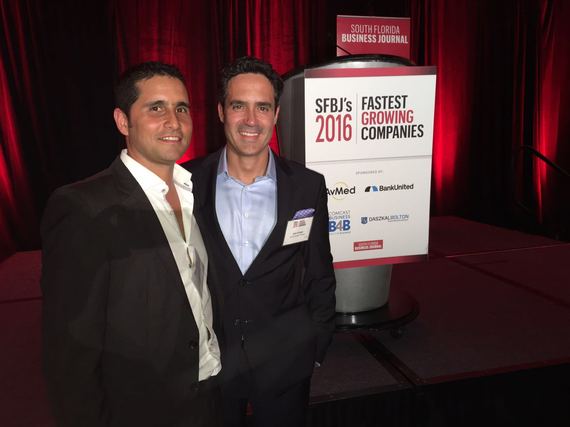 Santiago Manzur (left) and Ivan Orrego grew Andes Global Trading to $72 million in sales.