Elon's Mind Trick; Deep Work; 3 Keys to Branding; Deep Discount on Books
August 25, 2016
Airbnb's Job; Strange Brain of Climber; Slower Wins; 75 Foot Vision Wall
September 1, 2016
This Counterintuitive Strategy Helps One Scaleup Retain 100% Of Its Clients
Entrepreneur Ryan Markel's unique rhythm of customer contact has helped his lean startup Take Ctrl position itself for seven-figure revenue while growing profits by 400% last year.
Ryan Markel's customers often seem braced for a conversation with the condescending computer guy on Saturday Night Live when they first meet with him and his colleagues at Take Ctrl, an outsourced IT provider in Irvine, Calif. Markel takes them by surprise when—instead of barging straight to their server closet—he asks them to sit down and explain how the business operates, so he can help them achieve their larger goals.
Using this approach with clients such as Earth Friendly Products has helped Markel create a strong foundation for growth at the four-person startup, which expects to break the magic million in revenue next year. The ultra-lean business grew profits by 400% last year and revenue by more than 50%, with no increase in head count. Along the way, the company has achieved 100% retention of its 24 clients to date.
"It's amazing how, if we take the time to really understand people and listen, how fruitful that can be from a personal fulfillment standpoint and also from a monetary standpoint," says Markel.
Driven by frustration

Markel, now 33, started Take Ctrl in July 2011 with Scott Giles, co-founder and director of technology, out of frustration. After running the commercial IT services branch of a major computer repair chain, Markel noticed how frustrated the chain's customers would get when it charged them for a full hour of work for a five-minute repair. He and Giles spied an opportunity to start their own firm, with a more customer-focused business model.
It took a while to figure out how to translate that desire into a scalable company, however. As the co-founders worked out the details, they charged by the hour, like Markel's former company, but kept looking for a better way.
A clearer core purpose
After attending a 2014 workshop on what is now known as the Scaling Up system for growing a company, Markel finally had a breakthrough. It was impossible to come up with the right business model because the company wasn't clear on its core purpose.
Markel began working with David Chavez, a Gazelles International Certified Coach, to learn more about how to use the system in his company. "I challenged him to think about why he really started the company and what he could do better than anybody else," says Chavez.
Their work together helped Markel get clearer on his core purpose: Increasing the level of engagement of the people the company works with. One of the best ways to do that, Markel concluded, was creating a better experience for clients by eliminating irritants in getting IT help. Markel also set core values that supported that purpose. Value number one is "People first. Technology second."
Innovative billing
With the company's purpose and core values in place, Markel found it easier to fine-tune the company's business model. To truly put people first, he realized, he needed to set aside more time to listen to clients—without their fearing that the meter was running and their bill was expanding by the minute.
Working with Chavez, he moved the company from billing by the hour to charging customers a flat fee per person served each month—an approach tied to the overall value of the help Take Ctrl provides. A marketing consulting firm had initially suggested this approach, but, says Markel, "it didn't stick until we started working with a coach."
Beyond this, after every service ticket, the company began emailing the client to make sure problems had been resolved to their satisfaction. This approach has allowed Markel's team to make sure clients are happy and, if an issue has not been resolved successfully, to fix it before it becomes a bigger issue and irritant.
The system has helped Take Ctrl's growth so much that Markel now turns away clients who don't want this regular rhythm of contact. "If we have a current client or a prospect who wants us to fix something and leave and doesn't want us to care about them as people, then it's not the right fit," says Markel.
As Chavez advised, working with clients who don't offer an opportunity to deliver excellent service could compromise the company. It could also lead to negative word-of-mouth publicity if they become dissatisfied.
Putting customers in charge
Another core value Markel and his team set is: "Always let the customers decide." Instead of insisting that there is only one right way to address an IT situation, they accept that clients may have different preferences based on their unique business models. "We hear what our clients have to say and educate them to make an informed decision," says Markel.
Recently, for instance, a company hired TakeCtrl to oversee an email migration. Normally in a situation like this, TakeCtrl does a lot of advance planning with the client to avoid problems later.
Nonetheless, when Markel met with the client, he offered two choices: "Do you want us to spend some time working with you to think through some of the potential ramifications—or implement it over a weekend, probably get 70-80% right and deal with the lingering issues over time?" The client responded, "That second option sounds fantastic. I don't do well with prep work."
Staying committed to its core value of letting the client decide, TakeCtrl agreed to proceed as the client wanted but still did its own careful planning—in keeping with its core value to put people first. Markel and his partner were still a bit apprehensive and braced themselves for a slew of phone calls the Monday morning after completing the job. The calls never came.
"There were fewer issues than on any other project we've done," says Markel. "We were both shocked by how quiet this morning was."
Markel is now moving forward on plans for his scaleup. He is using the Topgrading system to find the talent he needs and is receiving 20-25 applications per week. "We are committing to constantly hiring for the foreseeable future," says Markel.
The company is also developing a client-facing app called Total Ctrl, to help clients troubleshoot issues on their own—something some want to be able to do. "During initial testing, reviews have far exceeded our expectations," says Markel. By continuing to blow past those expectations, Total Ctrl should have no trouble scaling up to greater heights.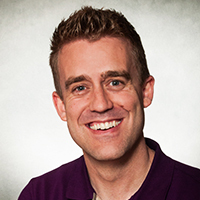 Ryan Markel, president and co-founder of Take Ctrl